Mo Mo- barn cat's Web Page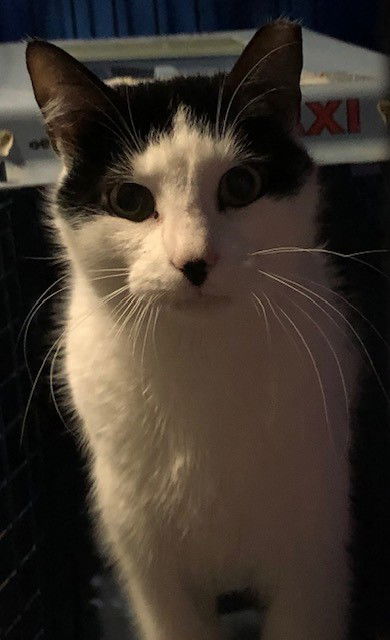 Interested in adopting?
Name: Mo Mo- barn cat
Rescue ID: C210002
Species: Cat
Breed: Domestic Short Hair / Mixed (short coat)
Pattern: Bicolor
Sex: Female (spayed)
General Potential Size: Small
Current Age: 5 Years 1 Month (best estimate)
Activity Level: Moderately Active
Indoor or Outdoor: Indoor and Outdoor
Good with Cats: Yes
Description:
Mo Mo and her siblings were born to a stray kitty in Doylestown. They were not handled much, and allowed to roam inside and out. Mo Mo's human mom fed her and his family regularly. However, she fell on hard times, and was evicted from her home. Mo Mo and her cat family found themselves without a caretaker and without shelter. Luckily, STC was able to round them up and are temporarily housing them. These kitties are in desperate need of either a barn home, or an indoor-outdoor situation. They will eventually hang around their feeder once they get used to them, however, Mo Mo and her family would prefer not to be handled. They seem to get along with other cats, and like to be around humans. Mo Mo and her family have been spayed/neutered, tested negative for FELV/FIV and have received updated vaccines. They have also been treated against fleas and examined by a vet. Please help us find these kitties a safe situation to live out their lives. If interested, please fill out an adoption application online at savethecatsinc.com or call 215-493-1158 and leave a message.